The 1986 comedy Ferris Bueller's Day Off was an instant classic, and remains a popular film today.  It's a cultural landmark, both for adults who watched Ferris when they were younger and the younger generations who look up to Ferris.
It's exciting then, that one of the homes, used as a filming location in the movie, is for sale!  But don't get too excited thinking about nabbing Ferris' room for your own, because the house for sale is the one used for his rich and down on life best friend Cameron.
The contemporary home was initially listed in March of 2009 with an asking price of $2.3 million.  As of January 2011, however, the home was still listed and the price had been slashed to $1.65 million.
The home, which is in Highland Park, Illinois, where the movie is said to take place (in a Chicago suburb), is 5,300 square feet, has 4 bedrooms, 4 bathrooms, and a detached 3-car garage made entirely of glass.
Although in the film, it is simply "Cameron's house", the home is actually known in Illinois as the Ben Rose Home.   It was built in 1953 atop a wooded ravine, somewhat secluded.  It was constructed almost entirely out of steel and glass and designed by A. James Speyer and David Haid.
Its crazy to imagine a gorgeous red Ferrari 250 GT Spyder crashing through that huge glass window, but they made it happen.  And now the biggest Bueller fans have the opportunity to relive one of the most exciting adolescent moments in film.  If you can afford the home and the car, of course.
"Cameron Frye's House" in Ferris Bueller's Day Off is on the market for $1.65 Million: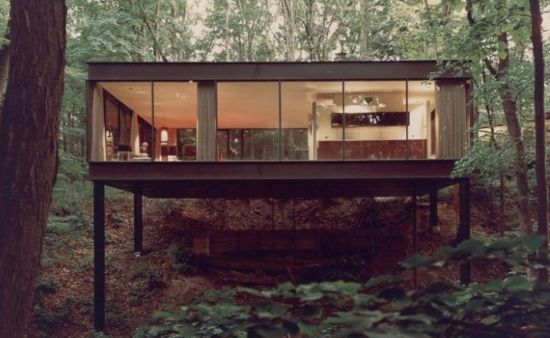 The open floor plan house, known in real life as Ben Rose Home, is extremely spacious:
Open style fireplace divides the living and dining rooms:
Detached 3-car Garage Made Entirely of Glass & Steel:
1961 Ferrari GT Spyder in Ferris Bueller's Day Off:
Remember this scene from the movie?