Marilyn Monroe is about as iconic as they come, her untimely passing in 1962 adding to her celebrity status.  But 48 years later in 2010, her last residence was put on the market.  Fans of homes and of Marilyn alike, the time has come! 
Marilyn purchased the 1929 Spanish revival home in 1962 for a whopping $90,000.  Located in the luxurious Helenas in Brentwood, the house recently sold for $3.6 million.  While much of that price may have to do with the history and celebrity-like nature of the house, it is certainly a very gorgeous property.
According to the original real estate listing, the sprawling Hacienda is "situated behind tall gates at the end of a quiet cul de sac on over 23,000 square feet…of tree-filled grounds" and has "French doors that open to private courtyard, expansive grassy yard, pool, citrus grove & beautiful setting".
It sounds beautiful, but as facts have it, this peaceful retreat-like property has caused  much controversy surround it's inheritance. Monroe's effect's were auctioned off by the world famous Christie's, to the tune of $13,405,785. But that didn't include the property.  In July of 2010, the house was finally put on the market by Prudential Realty Company, and sold for  $3.6 million.
Although the house has been sold, it is still a site worth seeing.  But visitors beware – according to LA Curbed, the owners aren't the most appreciative of endless Marilyn fans trying to snap a picture.  Below, we offer you a glimpse at the lifestyle of a legendary, old Hollywood icon. The home is incredibly charming and very beautiful, but wouldn't its history and daily trespassers be a bit overwhelming?
Marilyn Monroe House Entrance on Helena Drive in Brentwood: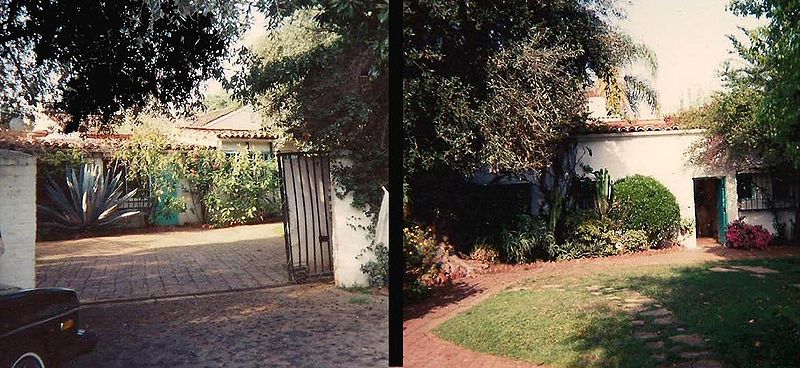 Charming study room with exposed beam ceiling:
A large living room for entertaining friends:
Marilyn Monroe's Bedroom with French Doors to the Garden: