---
Most Viewed Mansions
Most Popular Places
Submitted by: rgbarsanti
Meg Ryan Celebrity House in Bel Air
Bel Air
,
Celebrities
,
Celebrity Homes
Meg Ryan recently closed the deal on her former Bel Air mansion, and after some time and a lot of price reductions, is moving out $11 million richer. 
The actress tried selling the 6 bedroom, 7 bath, 6,800 square foot home 4 years earlier. But no one seemed to want to pay the $19,000,000 asking price for a house in Bel Air in the midst of the recession. Then finally this Spring, she settled for a modest $11,125,000 USD.
Meg Ryan moved into the house in 2000, after having purchased the property for $8.5 million from hip-hop mogul Mark Cerami.  Like all good Spanish-style celebrity homes in Los Angeles, the home was built in 1931. It sits nestled behind old oak trees atop a hill. Needless to say, the mansion comes complete with a pool and separate guesthouse, all on a cozy three-quarters of an acre.
The home itself is very spacious and elegant.  It's got a great flow and is very bright as you can tell from the pictures. The off-white on the entryway walls and hallways feels welcoming.  No over the top pictures, decorations, or furniture – exactly what a classic Spanish-style home should be.
It's fun to note that while the house was on the market for four years, it attracted a fair amount of attention from other celebrities.  Hollywood stud Ben Affleck and power-couple David and Victoria Beckham took tours of the property, but something must have left them unimpressed.  As it were, the neighborhood already carries plenty of celebrity clout.  Nearby neighbors include writer and executive producer Darren Star (Melrose Place, Beverly Hills 90210, Sex and the City), and billionaire businessman David H. Murdock.
Take a tour of the property here and be sure to search the neighborhood map for more celebrity homes.
Front Entrance to Meg Ryan's House in Bel Air: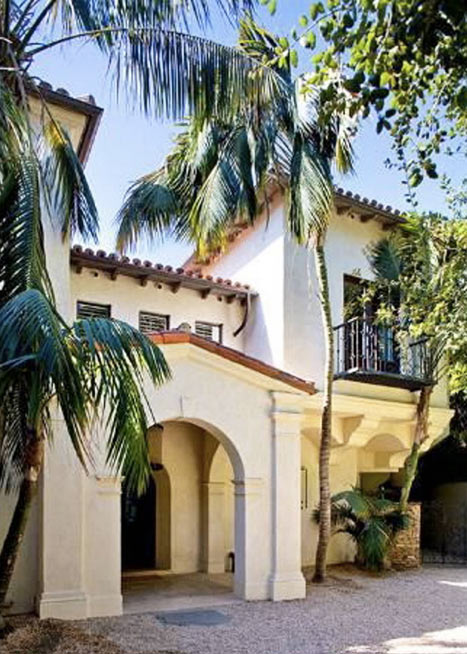 Soft spotlights add to the minimalistic decor of the house:
Meg Ryan remodeled the entire house when she purchased it in 2000:
The large back patio opens up to a beautiful backyard: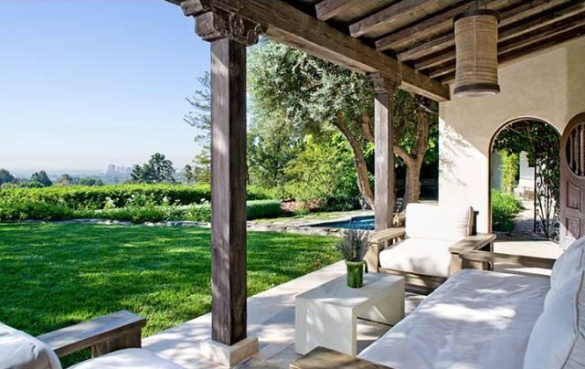 The small pool fits right in with the beautiful California setting:
View of Los Angeles looking out from the yard: