Show me the money!! Tom Cruise and Katie Holmes splash $35 million for a Beverly Hills mansion that was not even on the market. Ok, Cruise has some pull..Who doesn't in this town.
The traditional Cape Code style residence was built in 1937 with seven bedrooms and nine bathrooms and was refurbished and expanded to 10,286 square feet after it changed hands four years ago. The home, behind gates, is on a 1.3 acre parcel with a long gated driveway, a tennis court and pool. The three-time Oscar nominee and his family had been renting another house in Beverly Hills for the last few years but the lease will be up in 2008.
The Cruises just might have their privacy after all. Tom and Katie were married in November 2006 in Italy before a crowd of celebrity friends that included David and Victoria Beckham who have recently purchased a home only minutes away. There have also been reports that Cruise and the Church of Scientology have purchased a compound up in the Hollywood Hills just off Mulholland Drive for $9.85 milion in 2005 to be used as a Scientology retreat.
UPDATE: Recent reports have surfaced that Katie Holmes has filed for a divorce from Tom Cruise because of his involvement and an over the top obsession with the Church of Scientology.  Tom is said to have been on business in Europe when Katie had moved herself and their daughter Suri out of their New York City apartment where they were staying over the summer. Katie Holmes seeks full custody over their child.
Tom Cruise and Katie Holmes Estate in Beverly Hills may be sold off as part of their divorce settlement: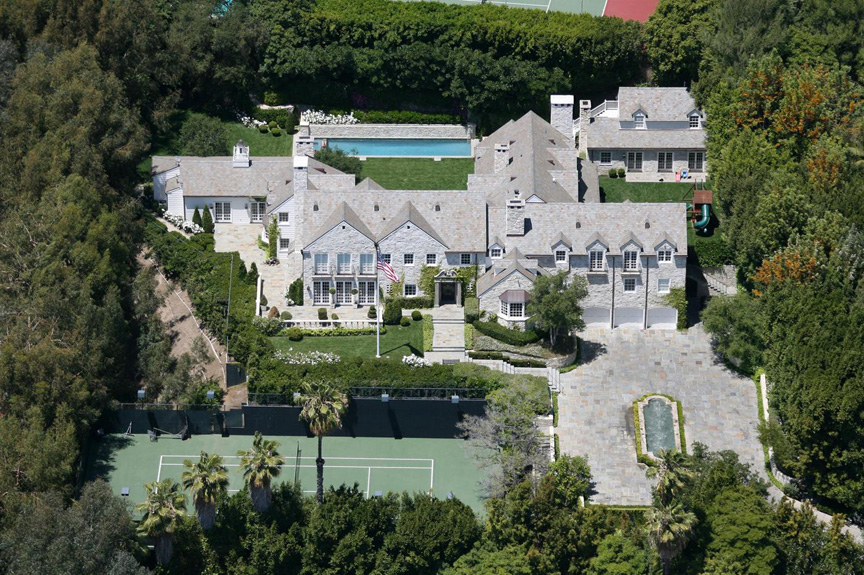 Hollywood couple's home after a high profile party they recently hosted:
Satellite View Of The Estate: